NeXGen™ CCURX Capacitor Control Receiver
NeXGen™ CCURX
Wireless Capacitor Controller Receiver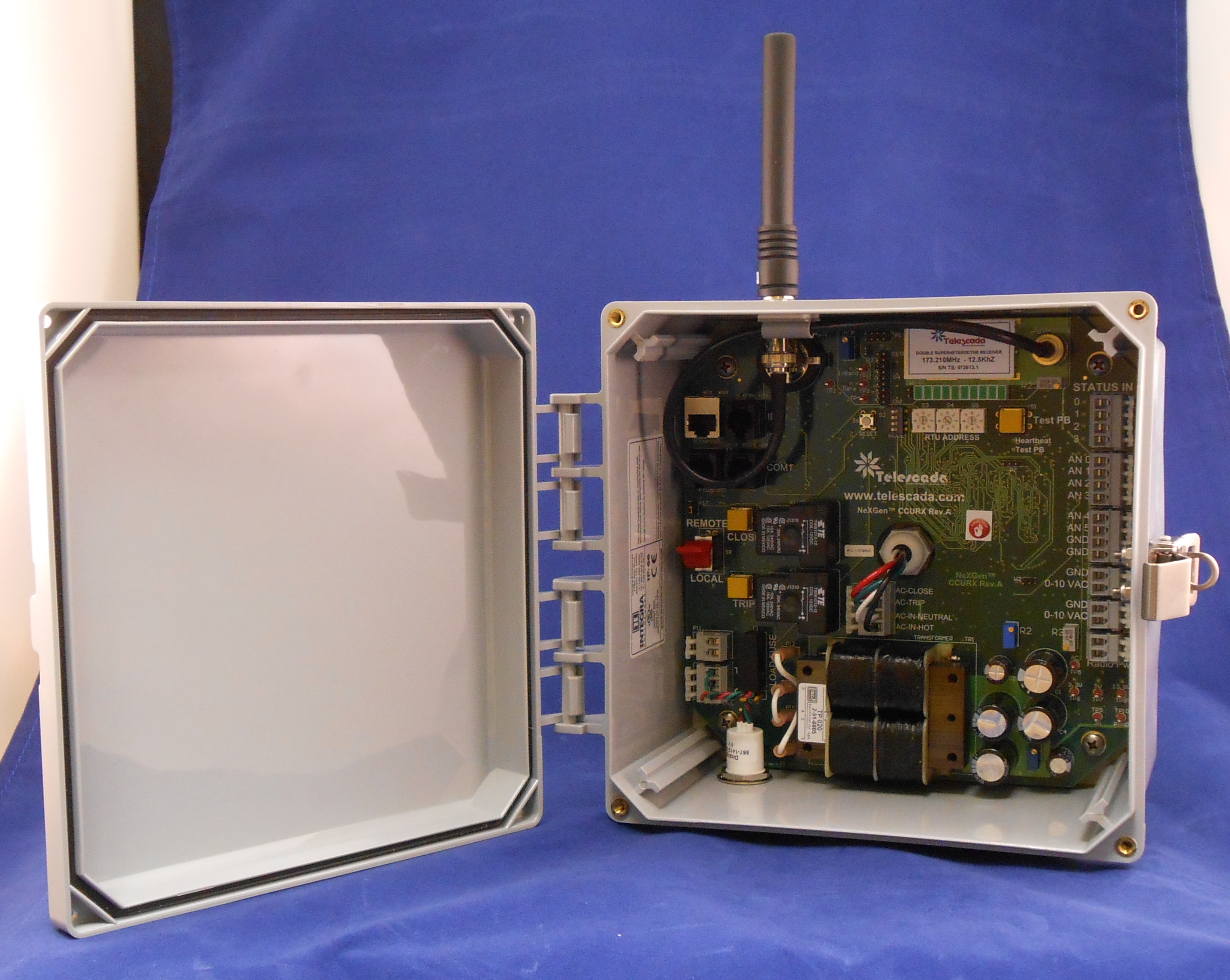 The Telescada NeXGen™ CCURX With Integrated VHF Radio Recevier
Classic design, with contemporary functionality, the Telescada NeXGen™ CCURX Capacitor Control Expandable Radio Receiver is a powerful, flexible and expandable solution for wireless distributed
capacitor control. The NeXGen™ CCURX highly sensitive double superheterodyne VHF receiver allows the NeXGen™ CCURX to operate via classic broadcast AFSK radio tones.
When it's time to go 2-Way, the NeXGen™ CCURX provides users with a core of 8 configurable analog and 4 digital status inputs for monitoring and a dedicated AC line voltage measurement input accurate to +/- 1% @ 117VAC. Plug in a 2-Way transceiver and the NeXGen™ CCURX communicates with distributed capacitor control SCADA programs via DNP3 or MODBUS protocolsols
A local maintenance port allows for direct interrogation and programming of the NeXGen™ CCU Series using the NeXGen™ NGC Maintenance Utility Software. DNP3.0 standard communications protocol allows the NeXGen™ CCU Series to communicate with any modern SCADA system. The NeXGen™ CCU Series install quickly into standard 4 or 6 stab meter sockets, or a utility pole bracket, with multiple wiring options. Complete NeXGen™ CCU Series communications packages are available from Telescada.
Integrated VHF Receiver
High Sensitivity Double Superheterodyne
VHF Frequency Programmable
12.5KHz Narrowband
RSSI Indicator for Signal Strength
Legacy Protocol Support
TS-11 (Conforms to Fisher Pierce 11-Bit)
REMS 101
REMS 102
SA Digital
Autonomous Control Functions
Programmable Voltage Override
Programmable Temperature Override
Programmble Time of Day Override
Programmable Single Phase VAR Override
Analog Inputs
6 (six) 0-5VDC Analog Inputs
2 (two) 0-10VAC Analog Inputs
1 (one) Dedicated Single Phase AC Line Voltage Input
Data and Event Recording on Each Channel
Digital Inputs
4 (four) Optically Isolated Digital Inputs
Data and Event Recording on Each Channel
Capacitor Bank Control Relays
2 (two) Integrated Relays
30A Amps Resistive @ 240VAC
Configurable TRIP/CLOSE Timing
Configurable Safety Timer
Configurable Manual CLOSE Delay Timer
Digital Counter with Data Recording
Expandable Communications
1 (one) Ethernet Port
1 (one) RS-232/RS-485 IED Communications Port
1 (one) USB Local Communications/Maintenance and Configuration Port
Local Controls & Feedback Indicators
High Brightness External RED/GREEN State LED
High Brightness External Fault LED
Local TRIP/CLOSE Pushbuttons
Local SCADA Lock-Out Switch
Optional Mechanical Counter
120VAC Input Supply
8 x 8 x 4 NEMA 4X Enclosure
4 or 6 Stab Socket or Pole Mount Options
DNP3
MODUS RTU/ASCII 16 & 32 Bit
NeXGen™ CCURX
ToneGen™ Tablet Transmitter
To complete the NeXGen™ CCURX Capacitor Control System Telescada has reinvented the handheld test transmitter for field and bench testing of AFSK control recevier instruments
The ToneGen™ Tablet Transmitter is a compact VHF transmitter with an integrated bluetooth transceiver. The ABS dock for the ToneGen™ Tablet Transmitter is designed to accomodate a standard 10" Tablet computer.
ToneGen™ is a Windows based test program designed to run on any Windows based PC, Laptop or Tablet. A clean and simple graphic interface allows field technicians to quickly communicate with and test the NeXGen™ CCURX Capacitor Control
ToneGen for TS-11 Bit Protocol Testing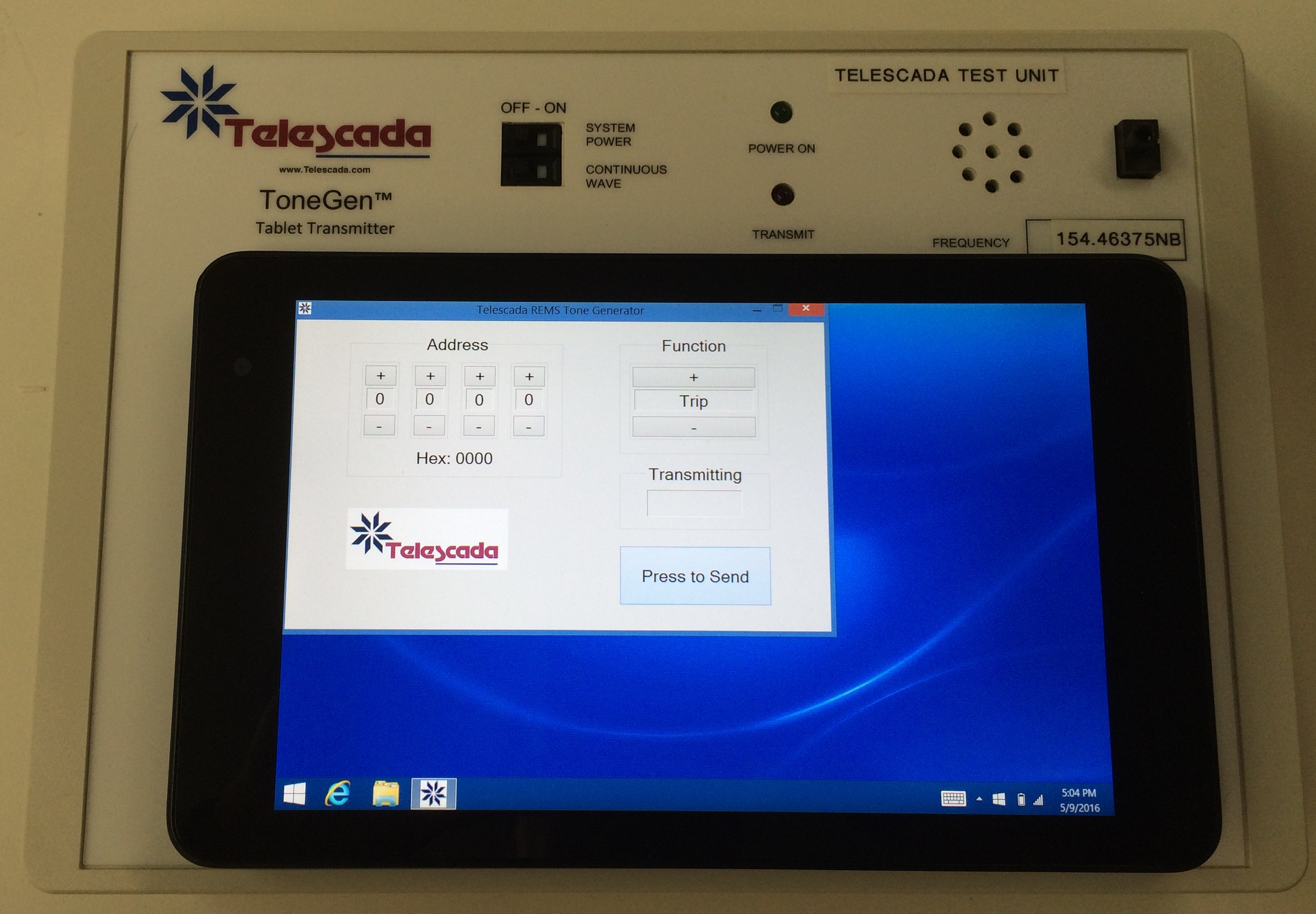 ToneGen for REMS Protocol Testing
---

Download the NeXGen™ CCURX Product Brief Here

Download the NeXGen™ CCURX User Manual Here